Hinge Products
Latch Hinges
Order by Phone
Call 1-800-882-0120

Office Hours
Monday thru Friday
8:00 - 4:30 (US Eastern Time Zone)
LATCH HINGES AND SPRING RELEASE HINGES

LATCH HINGES

DIMENSIONS (STANDARD SIZES SHOWN)
* SPECIALS AVAILABLE UPON REQUEST
click for a larger view of chart

*DIMENSIONS THAT CAN BE ALTERED TO MEET YOUR SPECIFICATIONS
POINT STYLE

Material
click for a larger view of chart


Available in Right Hand (R) or Left Hand (L) models. Special forms, offsets, swaging or welding projections available. Latch can be furnished assembled, unassembled, or body only.
Ordering Information
click for a larger view of chart

---
Spring release hinges combine a hinge and a latch in a standard piece of hardware. The spring release hinge has either a pair of spring-loaded handles or a single handle, which pulls toward the center to release the body or door from the keeper. An alternate style relies on a an engagement hole or slot in the adjoining surface. Installation is simple and inexpensive using screws, rivets or by welding. All styles are manufactured to close tolerances. End play and side play are held to a minimum, insuring a precision fit and smooth operation.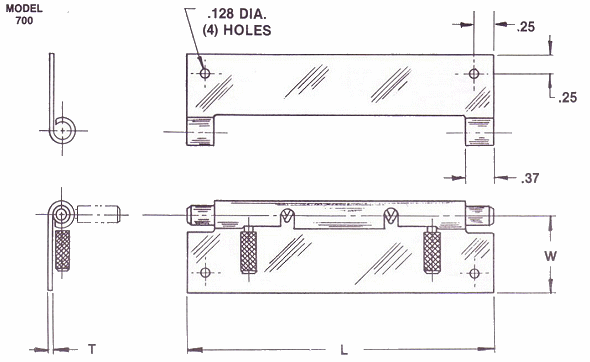 E-mail us your special requirements and we will promptly
get back to you with a cost saving quote.
---
Northeast Hinge Distributors, Inc.
PO Box 891 | 261 Proctor Hill Road
Hollis, NH 03049-0891
phone 603-465-3244 | fax 603-465-3313 | nehinge@nehinge.com
call toll free 800-882-0120